Finally good news: On Monday, 21 April 2008, a US judge dismissed a case against Steven Kurtz, co-founder of the Critical Art Ensemble (CEA) and Professor of Visual Studies at the University of Buffalo. It's not yet clear whether the prosecution will appeal the dismissal, but it's definitely good news: for Kurtz and all the people around him, as well as for everybody who considers critical art an important way of dealing with issues of technology in general and genetic engineering in particular.
In May 2004 the Kurtzes were preparing a project examining GM agriculture, when Hope Kurtz died of heart failure. Police who responded to Steve Kurtz's 911 call deemed the couple's art suspicious, and called the FBI. The art materials consisted of several petri dishes containing three harmless bacteria cultures, and a mobile lab to test food labeled "organic" for the presence of genetically modified ingredients. Materials that are simply save and actually had been displayed in art exhibitions before.
Nevertheless, a machinery started to to charge Steven Kurtz first with bioterrorism and then later with mail fraud instead - which sound ridiculous but can result in a long prison sentence in the US.
The authorities kept on pursuing the case, even after the health department had affirmed that none of the materials where dangerous and that Hope Kurtz had died of natural causes; after even the FBI saw that the possession of scientific equipment and materials in Kurtz's home studio was completely consistent with his practice as an artist and that his practice has a long, public and institutionally validated record.
In 2004, Kurtz was charged in 2004 with mail fraud and wire fraud stemming from an exchange of $256 worth of harmless bacteria with Dr. Robert Ferrell, Professor of Human Genetics at the University of Pittsburgh Graduate School of Public Health. Robert Ferrel pleaded "guilty" in October 2007 to a misdemeanor due to severe health problems.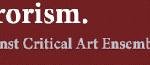 Submitted by
Antje
on 22 Apr 2008.