Today the German minister for Agriculture Aigner announced that she would use the safety clauses in Article 20(3) of the German law on genetic engineering as well as Article 23 of the EU Directive 2001/18 on Deliberate Release to stop the cultivation of Monsanto's GM maize MON810.
In a press conference she stated: "The cultivation of MON810 is thereby forbidden." The assessment of the different authorities gave no consistent opinion on environmental effects of MON810.
In the last weeks NGOs like Campact in Germany have been working hard to provide the information and facts needed to support a MON810 ban. One of the studies playing a role was a report about the (financial) damage caused by agro-biotechnolgy that Christoph Then and me wrote for the Federation of the Organic Food Producers (BÖWL).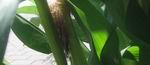 Submitted by
Antje
on 14 Apr 2009.