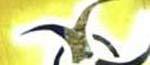 For an overview over contamination events check www.gmcontaminationregister.org
Regulation 1829/2003 - Section 2 Labelling, Article 12:
"1. This Section shall apply to foods which are to be delivered as such to the final consumer or mass caterers in the Community and which:
(a) contain or consist of GMOs; or
(b) are produced from or contain ingredients produced from GMOs.
2. This Section shall not apply to foods containing material which contains, consists of or is produced from GMOs in a proportion no higher than 0,9 per cent of the food ingredients considered individually or food consisting of a single ingredient, provided that this presence is adventitious or technically unavoidable.
3. In order to establish that the presence of this material is adventitious or technically unavoidable, operators must be in a position to supply evidence to satisfy the competent authorities that they have taken appropriate steps to avoid the presence of such material."